As Election Day creeps closer and closer, the question I've been asking for month feels increasingly urgent: what does this election mean for the fossil fuel divestment movement?
When I think about the past nine months of this election season, I think about my grandmother. I think about how she, along with so many others in my hometown of Lancaster PA, brimmed with excitement as Bernie Sander's numbers rose, surpassing all expectations. I think about the people I know — from my conservative cousins, to my high school acquaintances, to my fellow movement organizers — who felt empowered by a presidential candidate who spoke to the issues that really mattered to them. A candidate who was specifically naming inequality and racism as central crises, and painting a vision of government that actually works for the people.  
During this time I started to see the potential of electoral politics in a whole new light. I saw millions of people who had never been involved in protest or a social movement quickly come to see themselves as a part of a Political Revolution. For me and so many others, this was a window into the possibility of what could be a reality in this country, and it felt oh so sweet.  
We can't talk about this political revolution without talking about the simultaneous political nightmare that has unfolded. As Donald Trump was winning primary after primary, by tapping into the right-wing cultivated racism of the past four decades, handing out false promises, and pretending that (as a billionaire) he has the backs of the 99%. As Trump clinched the nomination, I was overcome with questions. How could this be happening at the same time as the Sanders insurgency? What does this mean for my organizing work in the climate movement? Fortunately, I wasn't alone, and there were a lot of others asking these questions and grappling with the answers.    
I believe we are at a critical moment, where so much is at stake. People in every corner of this country are frustrated that our government does not stand for them, and instead prioritizes corporate interests over our collective well-being. This reality is what drives me to organize. Over the past four years I've found a political home in the fossil fuel divestment movement. I've dedicated myself to this powerful movement that has been built by thousands of young people banding together across the globe. We've come together to call out the fossil fuel industry for what it is — a handful of elites getting rich off the backs of the working class, destroying culture and communities, and driving our world further into the depths of climate catastrophe.
After a lot of reflecting I've come to see this election as a critical moment for our movement and for the broader society that we want to move. So much is at stake in this election, and our movement cannot stand idly by. If we aren't voting and turning people out this election, we are forfeiting the power that the divestment movement has built. This is a moment to exercise that power: to turn up the heat, get political, and ensure that we get out the vote up and down the ballot to defeat Donald Trump, and defeat the hate and denial that he stands for.  
When it comes to the presidential race it is hard to swallow the grim inadequacies of our two-party system and the oligarchic and racist tendencies of our democracy. But the truth is that the outcome of this election will have an impact on our lives every single day. Who is in the White House matters.
It's no secret that Hillary Clinton isn't our climate champion. Neither was President Obama. But as Obama's turnaround on Keystone and the recent delay in construction of the Dakota Access Pipeline shows, we have been able to push him to take more ambitious action than any recent president before him. We've already spent the primary season pressuring Clinton to come out against the Keystone Pipeline, oppose the Trans Pacific Partnership, support banning extraction on public lands, and call for an investigation into Exxon for their climate lies. With a Clinton Presidency, we will absolutely have to keep the pressure on. But we have seen that, when we apply pressure, we have leverage over Clinton. The same is not true of Donald Trump, who is an unabashed climate denier, has committed to driving coal, oil and gas extraction fullsteam ahead, and makes a pastime out of mocking grassroots social movements. The possibility of a Trump presidency is so real: polls show the race getting tighter and tighter, with Trump and Clinton nearly head-to-head in many key battleground states.
I don't endorse Hillary Clinton — I endorse our movement. And in the 2-party system we live in, she is the choice we have. This election is a critical turning point because it gives us an opportunity to talk about what really matters: our work and the solutions we're fighting for. I'm endorsing our power to make the change that we so desperately need — for the future of our climate and our communities. But in order to do that we have to elect a President who we can move. At least as important, we must stop virulent racism from seizing the pulpit, the legitimacy, and the political power that comes with the Oval Office.  
This election is an opportunity for serious power building, not just for our movement but for our individual divestment campaigns as well. Right now, everyone is talking about this presidential race. If we want to reach people, we have to engage with what they're talking about. Elections like these are moments to reach beyond our current base of supporters and invite new swaths of people to get out the vote and join our divestment campaigns. This is what base building is all about — meeting people where they're at and inviting them to join in the movement.
The media is constantly asking — "Do millennials care about politics? What do young people care about?" This is the moment to make it crystal clear: Millennials are leading the social movements of our time. We are headed to the ballot box in droves. We are headed to vote for our future. We'll be right back on the streets after the election, pushing every single politician to fight for all of us.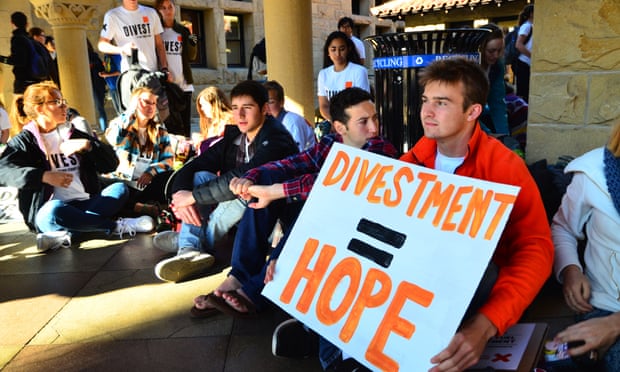 The next 50 days is our time to dive into the world of electoral politics — to make phone calls, to knock doors, to talk to family and friends.  We must ensure that we can defeat denial and racism, to elect Hillary Clinton, and then to make sure she knows we are serious about climate justice. We deserve a democracy that works for us. That won't happen without a fight.
See you in the streets and at the ballot box.
Becca Rast is the campus divestment organizer for 350 Action.
Join fellow divestment campaigners in getting out the vote. We're hosting a webinar on Thursday, September 29th that will dig into all the different practical actions you ways this can look on your campus. — and in particular we encourage you to join a Get Out the Vote effort on your campus or in your community. Bring your divestment team along, and find new folks to join your campaign through the work.
Go here and sign up on the website and join us for this webinar to find out how to get involved asap.
Want to read more reflections of this election, and the relationship between movements and elections?
If you want a review of the US political system and how it informs political strategy, check this out.